The Cultural Reflections of a Skinny Affluent White Boy in China
Learn and experience what it is like to be a 23 year old caucasian male in North Eastern China, you will be absolutely thrilled.
Wednesday, November 01, 2006
New Blog that I can see!
http://ca.360.yahoo.com/cameron_mcmaster
This is the website of my new blog.

Monday, October 23, 2006
Basketball
So I went to a basketball game of the CBA last night. The Chinese Basketball association has teams in each province and they play eachother. We didn't know about this until Ron and Doug happened to run into some players at the Walmart. While shopping they were trying to reach something and two 6' 10" black guys help them. They lived at the hotel next door to the Walmart, and they were imports on the Jilin team. Ron and Doug showed them how to get around the Walmart and get different foods, and they ended up meeting and having dinner later. Eventually they got tickets to the game. They have gone to every game of the season.
Rob and I went with them last night. We sat next to the band. There is a band that played various songs like the final countdown and red river valley. They also played that music from the opening of the jilin talent night video. During the game, the keyboardist would play missle noises when the teams shot foul shots, which was often. The game had many foul shots. They also made a lot of noise whenever the other team was on the home team's side of the court. Apparently, the fans didn't really cheer that much in the first few games, but last night they were really going wild.

The court was really slippery, because it was very dusty. It didn't get cleaned very much. Doug said that the court was never swept during any of the time he went, and that game it was finally cleaned. The mop was great. Here's a picture of it.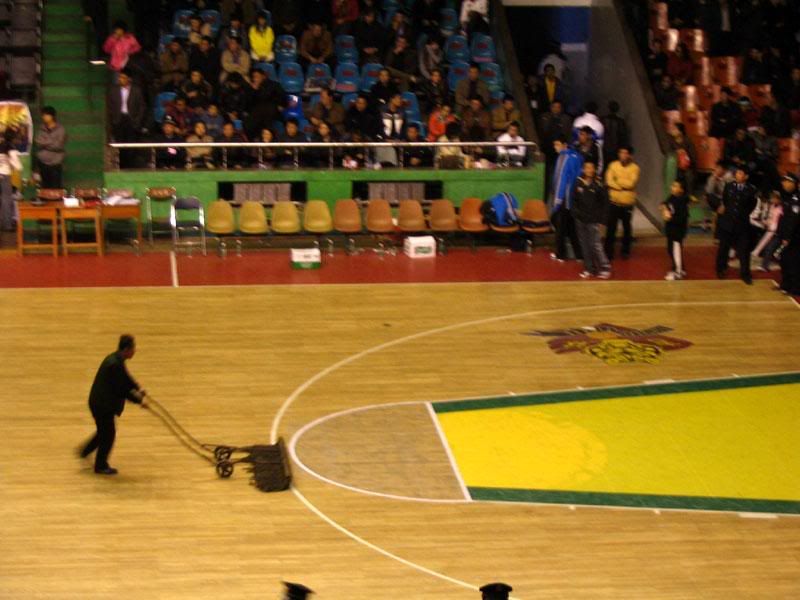 As I mentioned earlier, there are black guys on the team. Each team is allowed two imports from other countries. One player Darius is from the Miami Heat. Each time had two black guys. But the team Jilin played last night had many very tall players, and they could shoot too. They had a good 16 point lead at the beginning, but once the team got going the tables turned. Jilin got a 10 point lead over them for a good 2 quarters.
There were a lot of  fouls, I mean a lot! Like 4 players were kicked out. I think half of the points of the other team were foul shots. But the refs were really lax in the first half. They started to get harder as the game went on.
Apparently, usually the half-time show has ballroom dancers, but not last night. There wasn't even a half time show except us clapping to the band playing excerpts from Carmen: Toreadora. The fans really started to mimic how we cheered. But apparently they cheer better at soccer games according to Krista.
In the end, Jilin won 98-92. It was quite a close game, and although they were shaken at the beginning, and sometimes lost their lead, they were lucky with 3 pointers. They played very sloppy at times, and didn't adequately cover the other team. Sometimes, they left the entire court open.

Here are some pictures of the band and the court: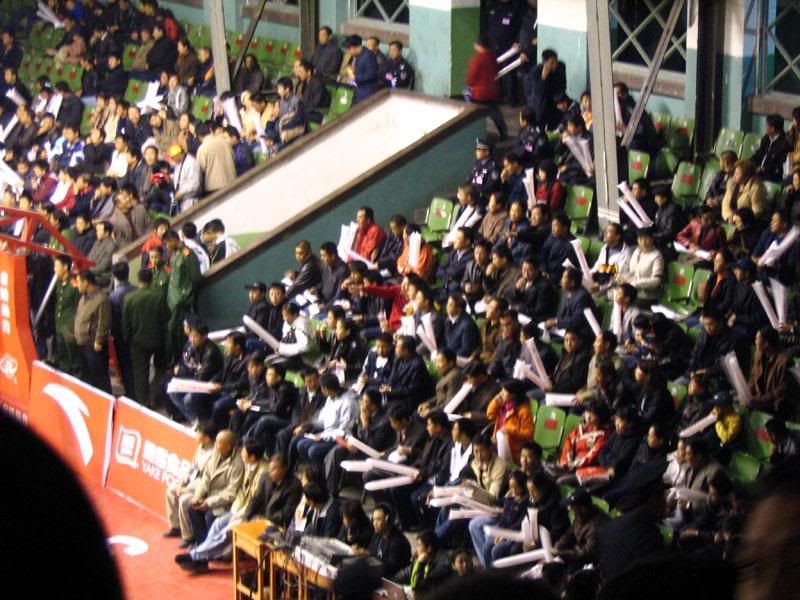 Those phallic looking objects in their hands are noise makers. If you hit them together, they make loud echoing noises.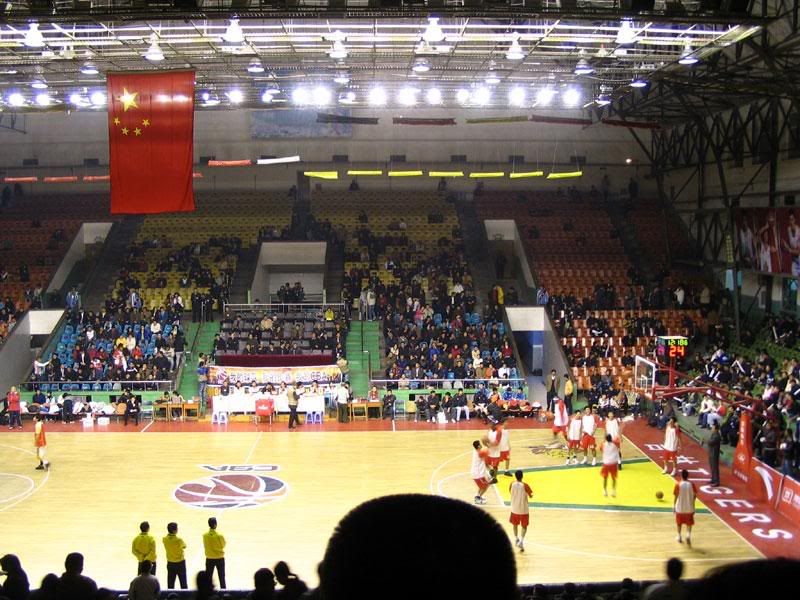 Friday, October 20, 2006
Dalian Strikes Back!
Yes I will use an exagerrated and over used reference to mention that I am back online after a hiatus of a couple of days. I apologize to those who I said I would call. But anyways back to the story.
When we last saw our brave group of rag tag adventurers, they were divided into two groups and set for dinner. One group tired from the lack of sleep had returned to drink a much needed coffee. They went to a cook your own seafood place, and bought some provisions for the long bus ride ahead of them at a bakery near the hotel.

The other group set on exploring more of the city and shopping had gone on their way out the door and into the city. Since summaries had been offered already to those events, let's review the most juicy tibdits of the plot and some even more juicy photos.
Bargaining in action!!! Krista is the resident expert of us in purchasing things at low low prices, like this Ganesha statue.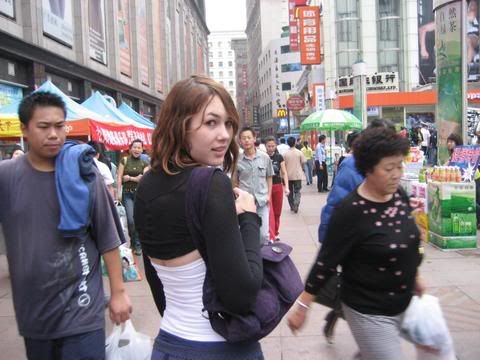 1) Cam got some chinese relaxation balls as a gift from Krista.
2) There were strange pieces of erotic art for sale which may or not have been purchased by Kayla and Danny. And the result of this may or may not be the whole market try to sell them every piece of erotic art in the process.
3) Krista, Danny and Kayla ate at a restaurant which was a meet, greet, and eat! They came they saw, they ate. What lovely guests. I mean what do you think you're doing fish! Living in a restaurant. Many restaurants have the option of greeting your food.
Well back to the point.
So the next day, we went on a "hike" for "an hour" and we had to drive "2 hours" to get there. All of these words were in fact quite the opposite. The hike was not an hour, but more like 2 hours, and it was more like a climb. And the ride there was like 3 hours. Anyway on the story.
So after a lively discussion of the joys of Judaism in the bus, we arrived at some national park a couple of hours outside of Dalian. All we knew about today was there would be horse back riding, and the hike came as surprise to us. The hike was actually a mountain temple complex. It was quite interesting. There was a temple at the bottom. Buddhist.
When we were walking up the path, somebody made a joke that the white structure at the top was where we were headed. We all laughed, and soon realized after many flights of stairs, that was where we were headed.
And in case you didn't know: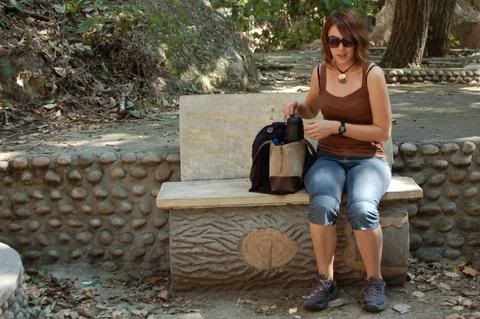 Luckily there were many benches to rest on on the way up, unlike Chang Bai Shan.

These are the dragon's nostrils. They are two wells at the bottom of a staircase that leads to the temple inside of the mountain. Legend has that there was a couple late at night and they were parked next to the road. They were kissing and that sorta thing, and one of them stops and says " Hey have you ever heard of "the hook"... anyway, the legend is that there was once a powerful dragon, and a mountain was put on top of him, and these two wells are his nostrils.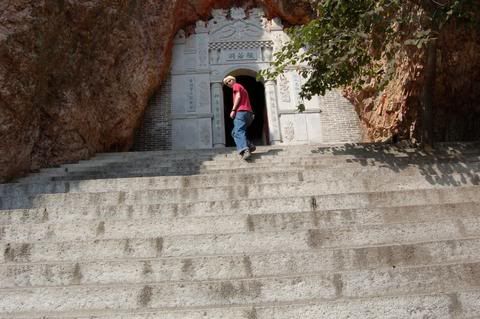 Here's James heading up to the gate that goes into the inner temple complex. The complex was quite dark and you had to climb up very narrow stairs. There were two paths one going right and one going left. In the centre was a statue of the Buddha and some incense offerings. At the top of the stairs, there was an monk selling incense and other things. Lauren talked to him and she said he wanted us to buy stuff. We all refused and he was angry. Oh those money grubbing buddhists, I mean Steven Seagal is the best Boddhisatva ever. I mean remember in Executive Decision when he dies so early in the movie and Kurt Russel ends up being the star? That was so selfless! And it's like he lost his ego and reached Nirvana. He came back to us in the form of other great films to show us the way to reach enlightenment like a good boddhisatva. Wait!!! No he just donated millions of dollars to buddhism and then was declared a Boddhisatva!

Back to the story.

We passed some temples on the way up. This one was right outside the inner temple complex. It had some beautiful views
.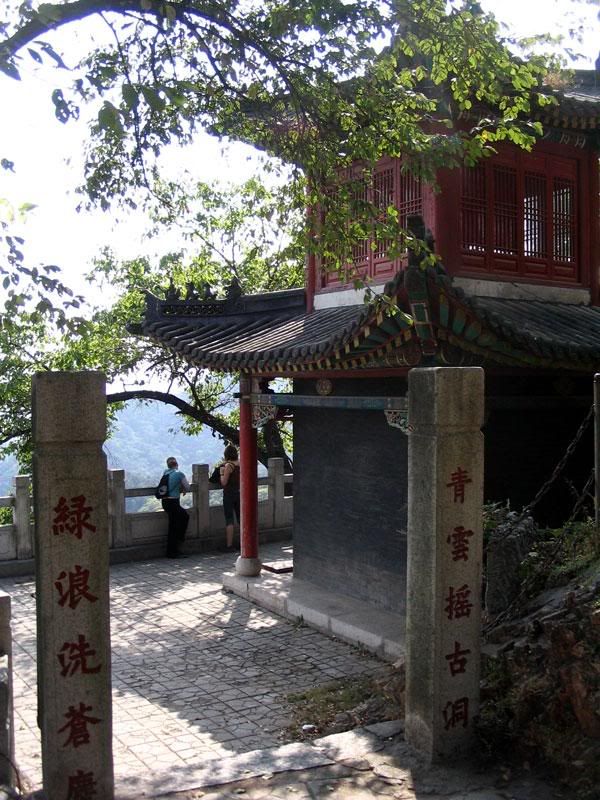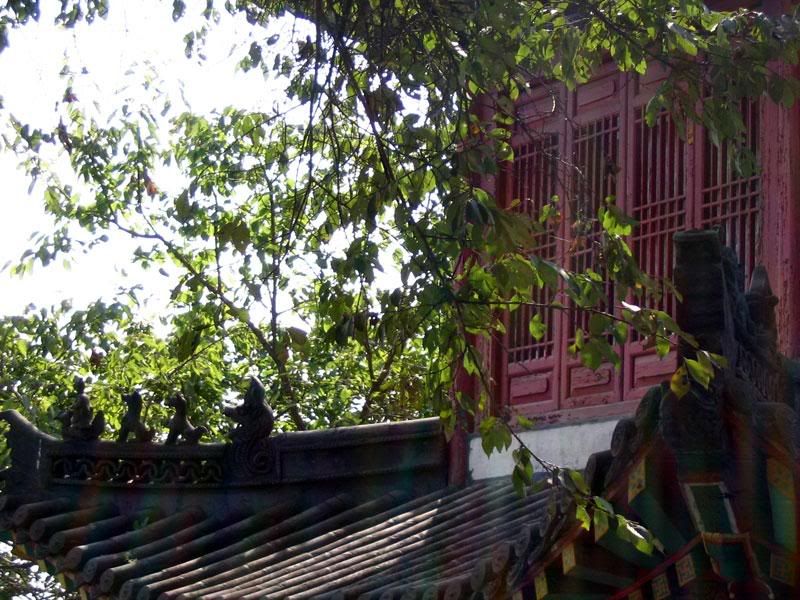 Yes, if you look carefully you will see a man riding a chicken.
Well there were more steps.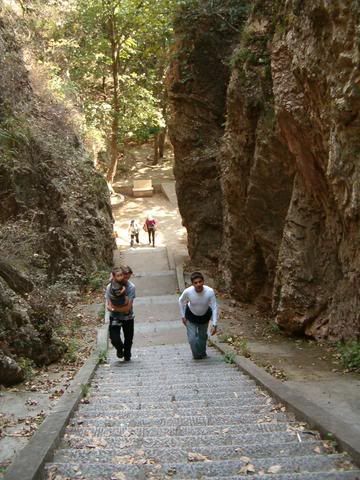 It kept going and going, and we took many breaks. At every stop there were these guys with royal stretcher type apparatuses that would take you up to the top for money. Man that would be really hard work because there were a lot of steps. You had to keep walking because if you didn't you would be bombarded by this terrible pop music that was blaring out of mega phones on trees. Unfortunately, we were heading straight to the tower that was blaring the music.

Actually that last picture was taken closer to the bottom, I am just using it for narratological purposes. But you wouldn't have known unless I told you. Isn't the medium of pictures and words fun. I could say then we rode horses down the mountain and provide a picture like this one.

And you wouldn't know the difference!!! You have to trust me because I'm the story teller.

I could also way that we ate popsicles as soon as we reached the top by showing you this picture.

But this is actually what happened. We did eat some popsicles at the top. They were really really good! They tasted like banana and coconut. They were really dense too. You know how sometimes when you make popsicles in the freezer you can suck all the juice out of them and they end up turning into just tasteless ice? Well these popsicles were so dense that you could just keep sucking them. We have yet to find a better popsicle.
Here are some pictures of the metal structure. You can climb to the very top and have a nice view.

We think that the people lived at the top because there were beds. Notice how this section is camouflaged. It's like I'm walking up invisible stairs!
Here are some pictures of the view obstructed by various people you might recognize.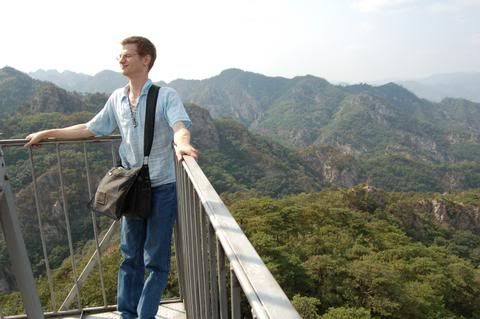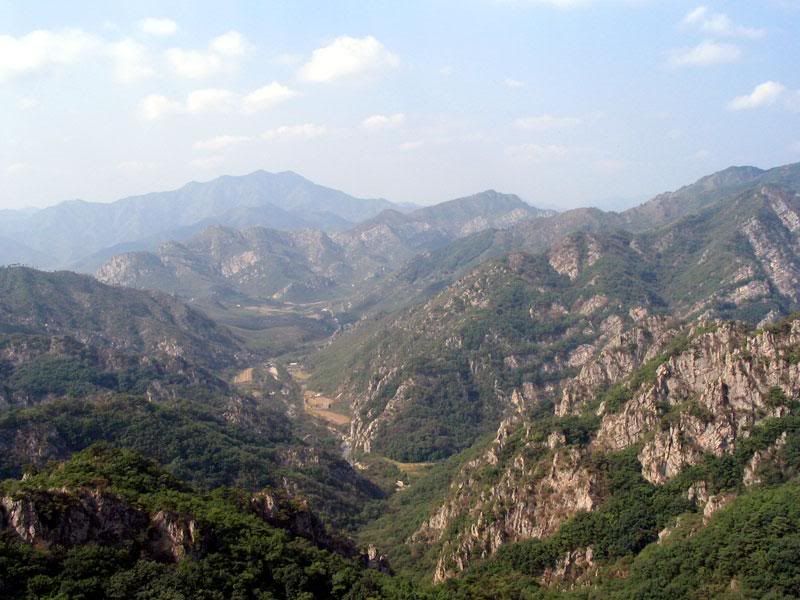 Here's another temple

Ok enough is enough. We walked down and took the bus somewhere else where we ate some food that was really not that great.
Next
So this national park was quite an interesting place. It had waterbumper cars, pedal zip lines, and waterwheels to get across a small river. Everybody but James tired the waterwheels to get across. I fell on my ass repeatedly, I mean like tumbled over in a circle like or four times. I had quite a scab on my elbow for the next 2 weeks. Danny fell once because I "accidently" went backwards when I was trying to stand up again. Krista and Kayla did it too, and so did Andrew and Denise.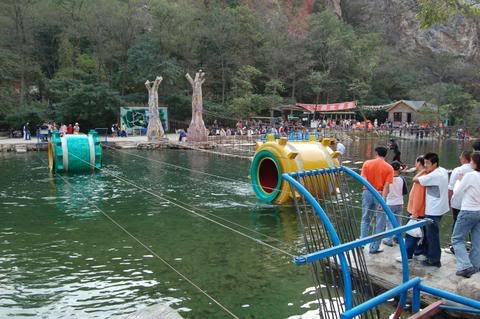 We were on our way to horse back riding. I don't remember the name of the place we went but it was quite nice.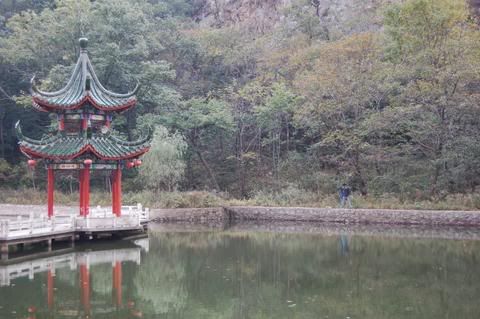 It had a lot of strange rock structures.
I don't know what happened to my face in this picture. I'm making some sort of smirk or grimace. I think I have began to inherit my father's travel photo grimace.
We had the option of taking a tram to get to the horses, but we chose to walk. Once we reached the horses, we had the option of going for a half hour, which in chinese tourism translates into 22 minutes ( just like tv!), or for a shorter time. We chose the half hour thinking we would go to the top of the mountain.
Here are some pictures of us on horses.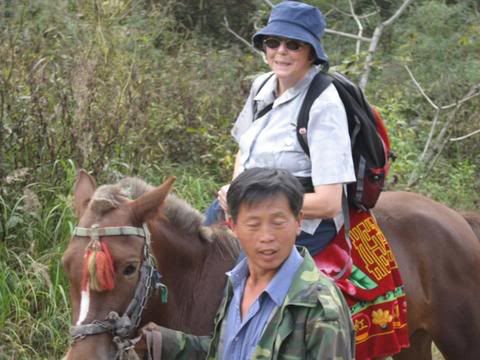 The horses and their drivers. That's right, we were lead around on horses. It reminded me of the pony ride at the ex but not in a circle and in China. I'm being to negative. It wasn't that bad. We went through the mountain area, and saw variously strange shaped rock structures that the driver told us the names of in chinese. Like the gorilla, and the wiseman.

The conditions of the road weren't that good. We all felt sorry for the horses because they had to walk on rocks. The horses were also really hungry and kept trying to stop for grass and leaves. While others had horses that ran quickly, mine would have none of that. Once we were going for a couple of minutes, they drivers asked if we wanted to pay more to go up the mountain. We said no, but we thought that was what we paid for to begin with. In China, there are always hidden costs.

After the horses, Danny, Denise, Nancy, and I took the zip line across the river.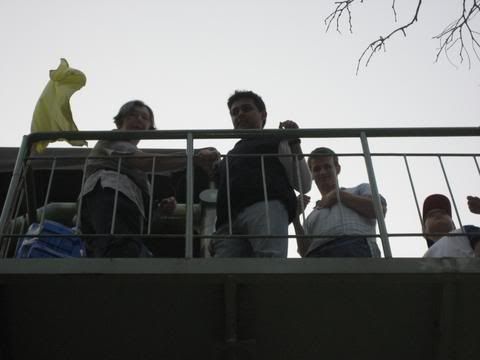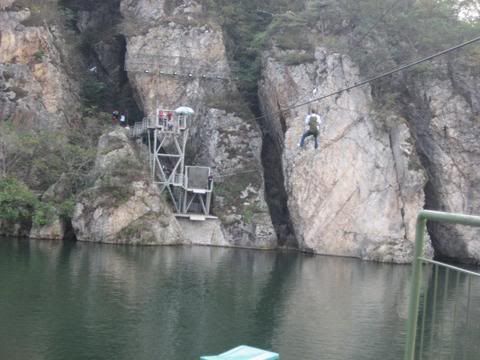 We took a boat back to the bus. Here are some pictures of the fyord like geography.
After the boat, we took the bus back and decided not to continue on the tour that was arranged for us because we wanted some time that was not organized in 15 minute intervals.

We went to restaurant to eat, and there was 2 couples drinking quite heavily. It was quite amusing when they wanted to pay the bill. In China, it is a custom to fight over who pays. So one of them paid, and another took the money right from the waiter and then threw the money back at the first one. The first one pulled the waiter aside and then slipped him the money again. And so on.
Since we weren't really that tired, we went to a bar just around the corner that sold over priced caffiene beverages. I bought some beer. Buying beer is really quite funny in China because you ask what is on tap and they tell you a list of beers in Pinyin. You order something like Ko Rong. Usually beers are in really big bottles like Tall boys, so you are split it with some one if you want. Andrew and I split a Ko Rong and one small corona bottle arrives at the table. We order another one of course.
Here are some pictures of the bar we were at. It had separate booths with doors, and the waitress spoke some English

Well that about concludes the day, in th e next installment you'll learn how exciting the city of Dalian really is!!!!!